Product Description
The iEasy300 CAN OBDII/EOBD Code Reader is a portable code reader for entry-level pro and savvy DIYer. It has a 2.4'' TFT color screen, hot keys and beepers for I/M readiness test, which enables users to fix faults at home or go to the garage armed with information.<br />
VIDENT iEasy300 CAN OBDII/EOBD Code Reader
VIDENT iEasy300 Features:
1.Works with most 1996 and newer OBDII& CAN compliant cars, light-duty trucks, SUVs, minivans and hybrid sold worldwide
2.Red-Yellow-Green LEDs and build-in speaker indicate emissions monitor status. They can also help catch intermittent problems or confirm repairs during a drive cycle.
3.I/M readiness hot keys make it easy to use this tool right out of the package. - quick display of status of all tests on a single screen
4.Read/ clear stored & pending codes, turn off Check Engine Light (MIL) and resets monitors
5.View on-screen fault code definitions (generic and manufacturer-specific, where available) - thousands of definitions stored within the tool software
6.Read freeze-frame data (a snapshot of sensor values when a DTC occurred)
7.Read real-time live data streams from the engine sensors - ideal for monitoring intermittent faults
8.Graph live engine data on-screen
9.Automatic VIN acquisition and decoding makes it much easier to read manufacturer specific codes and enhanced mode 6 data
10.Retrieve VIN, Cal ID and CVN identifiers from ECU (dependent on vehicle support)
11.Multilingual menu: English, French, German, Polish, Russian, Spanish, Italian, Portuguese, Hungarian, Dutch, Swedish, etc.
12.Exquisitely designed - Ergonomic grip handle, bulging membrane switch, gilding metal pins
13.Lifetime FREE software and firmware update via the official site: http://www.videnttech.com
Language (11):
English, French, German, Polish, Russian, Spanish, Italian, Portuguese, Hungarian, Dutch, Swedish
Default language pack: English, Spanish, Italian, French and German
NOTE: There are 3 language packs for the unit. You can go to the official site http://www.videnttech.com to change it and get anyone you want.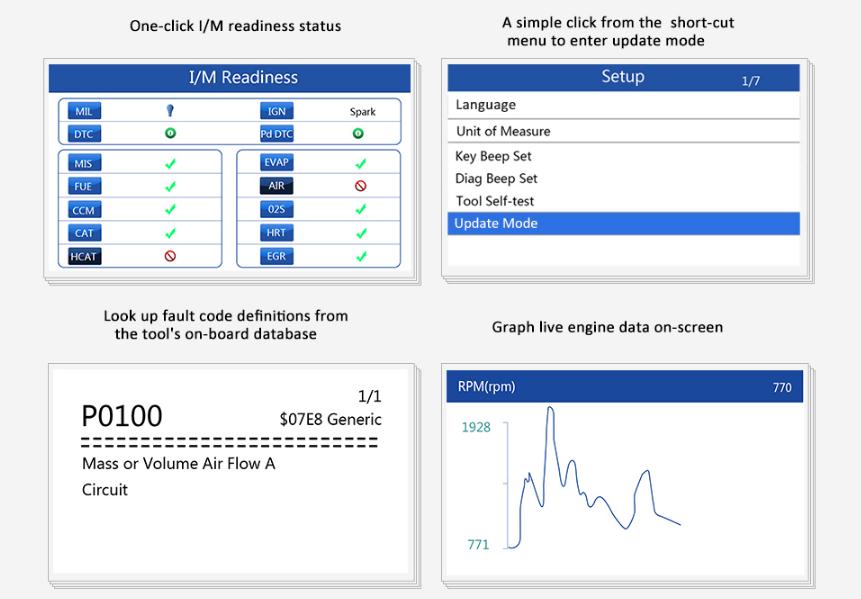 VIDENT iEasy300 Specification:
Display: 2.4" TFT color screen
Operating Temperature: 0 to 60°C (32 to 140°F)
Storage Temperature: -20 to 70°C (-4 to 158°F)
Power: 8 to 18 V provided via vehicle
Supported Protocols: J1859-41.6, J1850-10.4, ISO9141, KWP2000 (ISO 14230), and CAN (Control Area Network ISO 11898)
Dimensions : 125mm*80mm*24mm
Weight: 350g
Package includes:
1pc x iEasy300 OBDII/EOBD Code Reader
1pc x User's Guide
1pc x USB Cable
Contact Information:Whatsapp: +86-152-7181-3909
Live Support:
Chat with us online
Email:
Sales@OBD360.com
Skype:
Sales@OBD360.com
If you have any problem, please do not hesitate to contact us.