Product Description
CK360 Easy Check Remote Tester is a new Remote Key Tester for Frequency 315Mhz-868Mhz & Key Chip & Battery 3 in 1. It works for Mercedes infrared key detection and intelligent signal detection.
Highlights of CK360 Remote Tester:
1.Remote control -frequency detection:
Frequency: 315MHZ, 433MHZ, 868MHZ
Distance: 0.1~ 1m
Cover ASK and FSK models
2.Key anti-theft chip detection:
46/4d /48/ 47/ 49/ 4A/ MQB A/ MQB B/ 8C/ 64/ 4C/ 13/ 12/ 11 and other common anti-theft chips
3.Mercedes infrared key detection:
Infrared key active detection
No need to press the button (except FBS4 system)
4.Intelligent signal detection:
Keyless entry, keyless start and other signal data flow
5.Remote control button battery detection:
For the ordinary remote control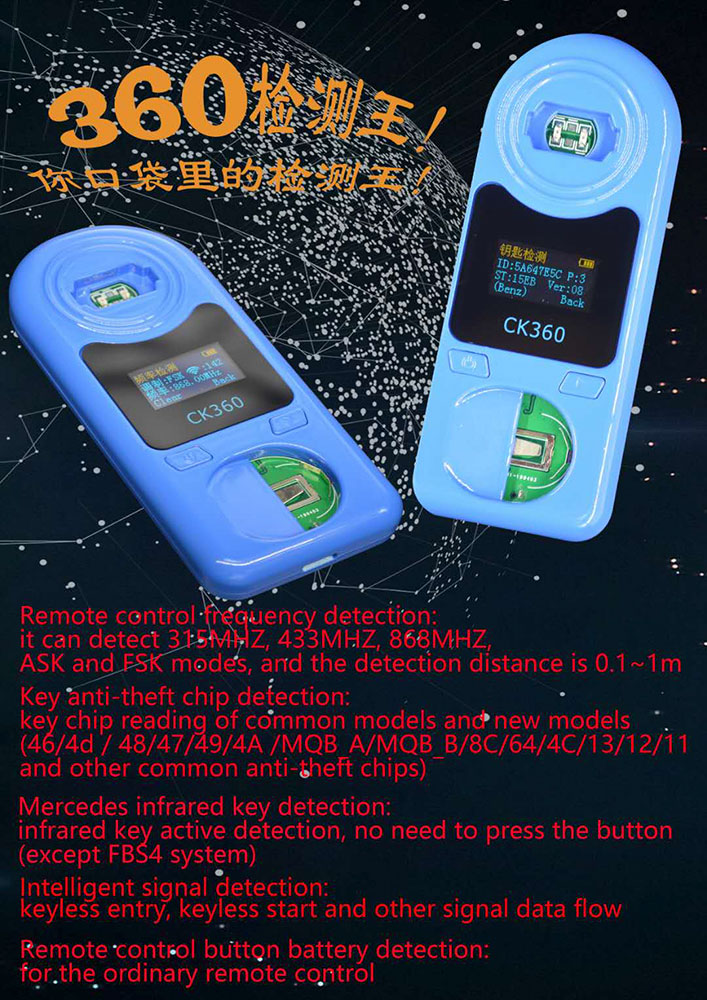 Package includes:
1pc x CK360 Easy Check Remote Key Tester
---
-

6% Off

Discount Automatically


-No need any coupon code
-Valid 8th Sep.-17th Sep.
---
Contact Information:
Mrs.Bella
Whatsapp: +86-152-7181-3909
Live Support:
Chat with us online
Email:
Sales@OBD360.com
Skype:
Sales@OBD360.com
If you have any problem, please do not hesitate to contact us.