Product Description
AUNCH X431 CRP429C Auto Diagnostic tool for Engine/ABS/SRS/AT+11 Service functions CRP 429C OBD2 obdii code reader Scanner PK CRP129,free shipping with best price.
Free Update Online for 1 year, after which subscription is 105USD/Year
LAUNCH X431 CRP 429C OBD2 Code Reader Test Engine/ABS/Airbag/AT +11 Reset Function
Top 5 Reasons to Get Launch X431 CRP429C:
1.Multi-system Diagnose:Engine,Transmission,ABS & SRS
2.OBD Full Function & 11 Special Functions
3.Support Multi-Languages:English, French, German, Italian, Spanish, Portuguese, Russian, Japanese.
4.Support 46 Brand Cars Over 10000+ Models
5.One-click Update
Launch X431 CRP429C
is one professional automotive car scan tool, it read and clear codes on engine system, transmission system, abs system and srs system for old and new vehicles. Engine system, transmission system, abs system and srs system are the basic system of car, launch crp429c can help diagnostic the problem of these system and show the live data in graph. The most convenient is crp429c built in dtc lookup library, you can check the fault codes online, help you know exact meaning of the DTC and some terminology explanation.
Launch CRP429C Special Functions:
Oil Lamp Reset
ABS Bleeding
Injector Coding
Gear Learning
EPB (Electronic Parking Brake Reset)
TPS(Throttle Position Matching)
IMMO ( Immobilizer Matching )
SAS Reset ( Steering Angle Calibration )
BMS ( Battery Register / Battery Maintenance )
TPMS Reset (Tire Pressure Monitor System Reset)
DPF Regeneration ( Diesel Particulate Filter Regeneration)
Support All 10 Modes of OBDlI Test:
1. View freeze frame date
2. support graph data stream
3. O2 Sensor test
4. Evap system test
5. On-Board monitor test
6. Read & Clear DTCs
7. Identify VIN information
8. DTC code look up
9. Turn off MIL(Malfunction Indicator Lights)
10. I/M Readiness status test
4 system diagnostic
Engine System:
The diagnostic tool can help detect the engine ignition, fuel injection, air and fuel ratio, and exhaust emission conditions in Engine system to enhance vehicle performance, save energy and reduce exhaust emission.
Transmission:
It makes great sense in the safe driving when your car is slipping or difficult to shift. This diagnostic scanner can figure the problems out via reading codes in the Transmission system, or check the health status via live data viewing.
ABS System:
Diagnosing an ABS problem should always start with a visual inspection of all brake components, next you will need to retrieve ABS codes to tell you where the problem is, and this is what this scanner does for you.
SRS System:
SRS, safety restraint system, is made up of impact sensors, a control module, and the airbags themselves, and this diagnostic device can detect every electronic parameter to check its health status
11 Special Reset Service Functions
Oil Reset
:allows you to perform reset for a new calculation of Engine Oil Life system once changed the oil.
EPB Reset
: is important in the maintenance of electronic braking system's safety and efficiency.
BMS Reset:
allows the scan tool to evaluate the battery charge state, monitor the close-circuit current, register the battery replacement, and activate the rest state of the vehicle.
DPF Reset:
specially works for Diesel Particulate Filter system with DPF regeneration, DPF component replacement teach-in and DPF teach-in after replacing the engine control unit.
SAS Reset:
helps clear the fault steering angle sensor memories and plays an important role in the steering angle sensor calibration.
TPMS Reset:
makes sense in displaying sensor IDs from the vehicle's ECU, inputting TPMS sensor replacement IDs and testing sensors.
IMMO reset:
it is mainly used to disable the lost vehicle keys and program a new replacement key fob.
ABS Bleeding :
ABS brake bleeding to get a firm brake pad after air exhaustion.
Gear Learning:
The scan tool monitors certain camshaft position sensors signals to determine if all conditions are met to continue with the procedure for Engine running
Injector Coding:
Leaking injectors and some dead injectors can be missed even when an injector is disabled. Otherproblems with the ignition system and mechanical components also may not show an rpm loss when aninjector is turned off

Throttle reset:
The throttle body is a tube containing a pivoting flat valve (butterfly) that is used to control the amount ofair entering an engine. In an electronically fuel injected car, a throttle position sensor and air flow sensorcommunicate with the computer, which supplies the corresponding amount of fuel needed at the injectors. It must need re-learning throttle sensor position after clearing or repair
DTC LOOKUP and Print Report
Launch CRP429C built in over 3000 generic error code definitions, you can type the fault code online, it can help you know car problem quickly.
Data Stream Graph
Data stream can help view different data with graph at the same time.4 Live Data Stream Analyse in 1 Graph: This OBDII diagnostic scannerhas
big size LCD color screen .it also shows live vehicle sensors data in text,multiple graph format shows 4 live Readiness and allows you to focus on
any suspicious or symptom-specific data parameters.

Save the Trips to Your Mechanic

Built-in generic codes definition look up library, help you know
car problem accurately, save time for fixing.Launch crp429c is
powerful function but simple button scan tool.It is very easy to
use for all people, you can diagnostic the car at home then go to the repair, save the trips to your mechanic.
Launch X431 CRP429C Support Vehicle Coverage:

Hyundai,Daewoo,KIA,Chrysler, Dodge,Jeep,GM, Buick, Cadillac, Chevrolet, AUDI, SAAB, SEAT, SKODA, SMART, Transporter&V-Class, BMW, Mini Cooper, BMW-Brilliance, Rolls-Royce, Porsche, Benz, Maybach, Peugeot, DongFeng Peugeot, Volkswagen, Bentley, Bugate, Fiat, Abbas, Lancia, Alfa Romeo, Nanjing Fiat, Volvo, Renault, DACIA, Landrover, Jaguar, Citroen, FuKang, Opel, Opel South Africa, VAUXHALL, Isuzu Japan, Isuzu Thailand, SUBARU, TOYOTA, TOYOTA China, Lexus, SUZUKI, Mazda, NISSAN, Infiniti, DongFeng Nissan, Lincoln, Ford, Acura, Honda, JAGUAR

What is the Difference Between Launch CRP429C and CRP429?
Launch crp429c is more cheaper and they all have 11 special functions. Launch crp429c work on ABS, SRS, Engine, Transmission system, crp429 work on more system, but launch crp429c can work for some old obd1 cars. About After-Service, launch crp429c is 24 months, crp429 is only 12 months
What is the difference between launch crp429c and launch crp123 / launch vii+ / launch viii / launch crp129 ?
Compare with launch crp123 / launch vii+ / launch viii / launch crp129, crp429c have more advantage, 429c have more big storage, it is touch screen, android system, operate more quickly, and crp429c can update online, auto read VIN#, print data report, it is very convenient.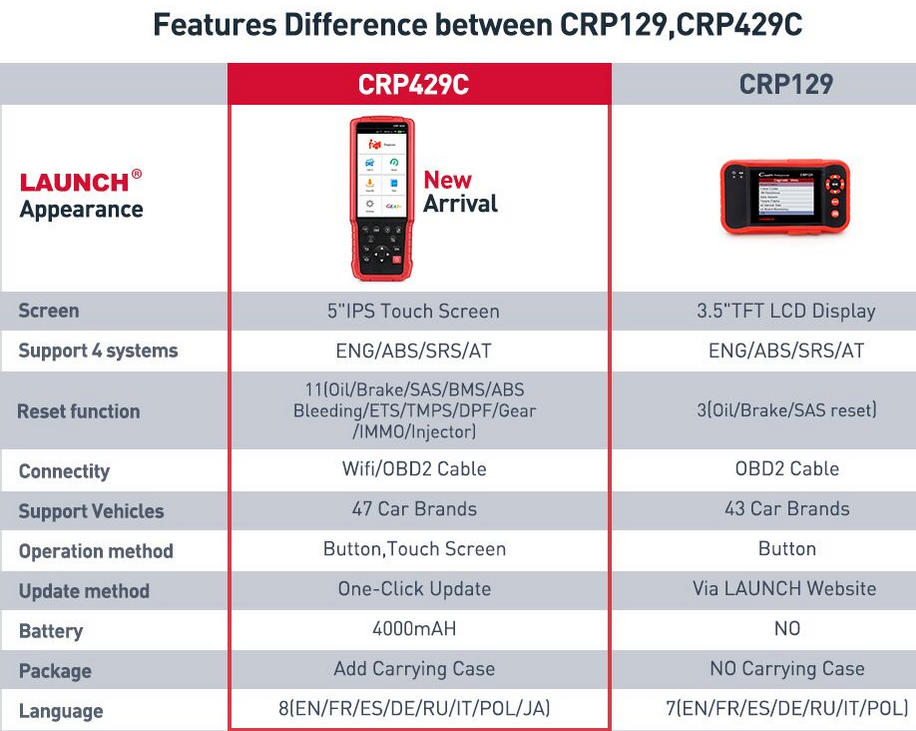 ---

Launch CRP429C Customer FAQs:
Question:
2013 bmw x5m does it work on relearning tpms?
Answer:
Hello, thanks for your question, yes, this scanner tool can relearn tpms, if you have any other question, please feel free to contact me , thank you so much.
Question:
Does it program remote key fob?
Answer:
It says it should be able to RESET an immobilizer key (keyfob) if that is what you are looking for.
Question:
will it reset airbag light
Answer:
Hello, I am sorry, if you want to read fault codes for airbag system, that crp429c support it. If you want to reset airbag, I am sorry, crp429c does not support it, but X431 V support it,
Question:
2009 honda odyssey ex. can u add aftermarket new chip key ?
Answer:
Hello, I am sorry, crp429c can not add a new chip key.
Question:
Can you use this for a relearn function for a 2005 chrysler 42rle transmission?
Answer:
Hello, I am so sorry, crp429c can not relearn transmission on 2005 chrysler , but x431 v can do it
Question:
Does the launch crp429c have the ability to monitor mode 6 data?
Answer:
Hello, crp429c have obd2 full function, it can monitor mode 6 data, if you have any other question, please feel free to contact me kingbolen05@hotmail.com , thank you !
Question:
Does this require an obd2 to obd adapter to read obd codes?
Answer:
Hello, yes, crp429c need an obd2 to obd adapter to read obd codes, you need to prepare the adapter by yourself, thank you so much !
Question:
Will this work on a 2018 porsche macan, 2018 audi ttrs, 2017 chevy 2500hd diesel and a 2007 ford exporer?
Answer:
Hello, happy holiday, I am sorry, crp429c can not work on 2018 porsche macan, 2018 audi ttrs, 2017 chevy 2500hd diesel, but it can work on 2007 ford exporer. If you have any other question, please feel free to contact me, thank you, have a nice day!
Question:
Will this work on an F 150 Ford 3.5 liter ecoboost?
Answer:
Hi, yes, launch crp429c can do it.
Question:
will it work on a 2007 jetta and 2002 tahoe thanks
Answer:
It's suppose to work from 96 up to now
Question:
Will this work on a 1995 Geo Tracker?
Answer:
No. 1996 on up! Remember this is for OBD2 cars. Which started working 1996 to present.
Question:
Can this be used to relearn the tpms sensors after a tire rotation on a 14 gmc savanna?
Answer:
Hello, yes, it can relearn the tpms sensors for gmc, if you have any other question, please feel free to contact me, thank you
Launch X431 CRP429C Technical Parameters:
Operating System: Android 7.0
Processor: Cortex-A5 processor (1.5 GHz)
RAM: 1GB
ROM: 8GB
Display: 5 inch IPS touch screen
Connectivity: Mini USB 2.0,USB 2.0,Wi-Fi
Micro SD card (supports up to 32GB)
Power and Battery: 4000 mAh lithium-polymer battery
Built-in Lithium Battery: 4000mAh
Ambient: -20ºC ~ 70ºC (storage); -10ºC ~ 50ºC (working)
Product Size: 248.7x93.5x36(mm)
Product Net Weight: 530g
Launch X431 CRP429C Package includes:

1pc x CRP429C Main Unit
1pc x OBDII Diagnostic Cable
1pc x DC 5V Charging Cable
1pc x User's Manual
1pc x Padded Carry Case
---
Contact Information:
Mrs.Bella
Whatsapp: +86-152-7181-3909
Email:
Sales@OBD360.com
Skype:
Sales@OBD360.com
Scan QRcode and shopping on phone easily


Scan whatsapp code and chat with me online
If you have any problem, please do not hesitate to contact us.
---
After-Sale Service
(1)Shipping Warranty:
DHL: 3-5 days
UPS: 5-7 days
EMS: 10-15 working days
Regular Airmail: 7- 20 working days. At most 45 days.
Oversea warehouse: 2 to 5 days.

(2)Product Warranty: 1 year
One Year from the date equipment arrival
Repair and maintenance service for free within one year
Free technical support via internet or phone online
1. Damaged tool Service:
If the product you received has been damaged during the shipping, please report to local DHL office/Post office immediately and ask for damage proof, then contact our website customer service for exchange service.
2. Product Qulity problem for refund or exchange:
If the product has any problems, please contact customer service online within 7 days and return the item to us within 30 days upon the arrival.If you not contact us within 7 days and not return to us within 30days,
it is considered as used and WE WILL NOT ISSUE YOU A REFUND OR REPLACEMENT.
3. Return Service:
All returned items MUST BE in the original packaging and you need to provide us with the return tracking number, specific reason for the return, and also your order number. If the item needs repair, refund or exchange, please use simple airmail to ship back to us.
4. One-year warranty.
If the item need repair, within one year, customers no need pay repair fee but need to pay both back and forth shipping cost. Over one year warranty, customer need to pay repair fee.
5.Warranty Item
| | |
| --- | --- |
| Main Unit for Equipment | 1 year warrnaty |
| Machine peripheral equipments and wire | No warranty |
| Car diagnostic laptop | 3 months |
| Data Hard Disk | No warranty |
| Car software | No warranty |
| Consumables | No warranty |