MASTER MST-500 Handheld Motorcycle Diagnostic Scanner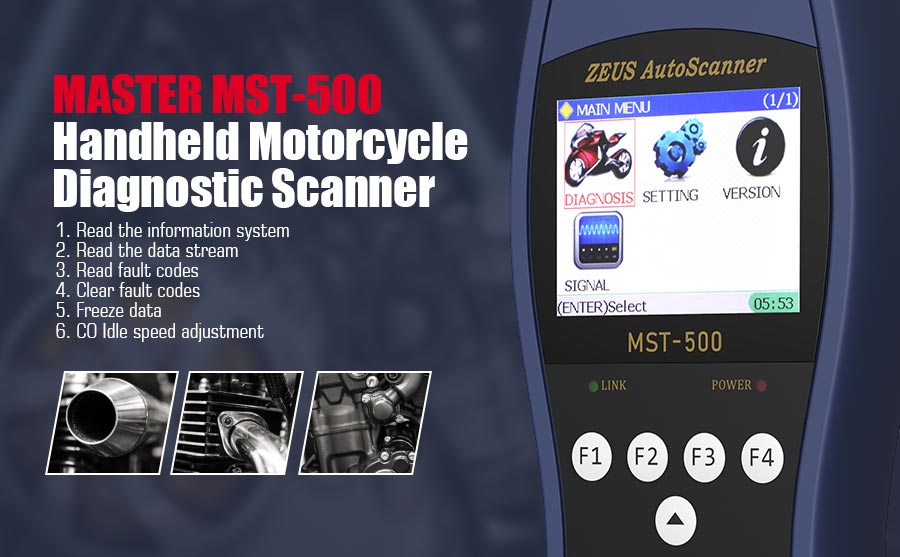 Description:
1, Hand-held operation, convenient and flexible to use
2, Support for SD cards to store data and upgrades, more convenient and easier
3, Reserved CAN bus interface
4, 3.2-inch color screen, clear display.
Functions:
1. Read the information system
2. Read the data stream
3. Read fault codes
4. Clear fault codes
5. Freeze data
6. CO Idle speed adjustment
Features:
Power: DC10-15V
Operating Current: 250mA
Screen: 160 * 105 LCD
Keyboard: membrane keyboard
Storage temperature: -10 C to 85 C
Operating temperature: 0 C to 70 C
Humidity: <90%
Upgrade Ports: USB port
Communication ports: COM port
1, Support Motorcycle:
"H-O-N-D-A", "S-Y-M", "K-Y-M-C-O", "Y-A-M-A-H-A", "K-A-W-A-S-A-K-I, "S-U-Z-U-K-I", "P-I-A-G-G-I-O",
"V-E-S-P-A-", "P-G-O", "H-A-R-T-F-O-R-D", "A-E-O-N", "K-T-M", "D-A-Y-U-N "etc.
2, Support Function:
(1) ECU information
(2) Dynamic Data
(3) Read fault code
(4) Clear fault code
(5) Component Test
(6) Special function, such as: Accelerator reset, ISC reset, CO volume adjust etc
You can check the dynamic data by numerical curve change in waveform.
Update:
Easy update, only need to connect PC with U disk, Click "USB memory" in the manually, you can see PC find new U disk after you click OK.
Then, you can copy the update file into U disk, then plug off U disk from PC side, then you can finish update according the notices.
(When TF card could not reset ok, then please plug again, finish update as it said)
Package includes:
1pc x SYM
1pc x KYMCO
1pc x SUZUKE-1
1pc x SUZUKE-2
1pc x PGO
1pc x YAMAHA
1pc x HARTFORD
1pc x AEON-1
1pc x HONDA
1pc x PIAGGIO/VESPA
1pc x POWER Cable
1pc x USB Cable
1pc x MAIN Cable
1pc x SD