VIDENT iLink400 for HOLDEN Full System OBD2 Diagnostic Scan Tool Supports Holden
(7% Off $129)

Note:This comes with Holden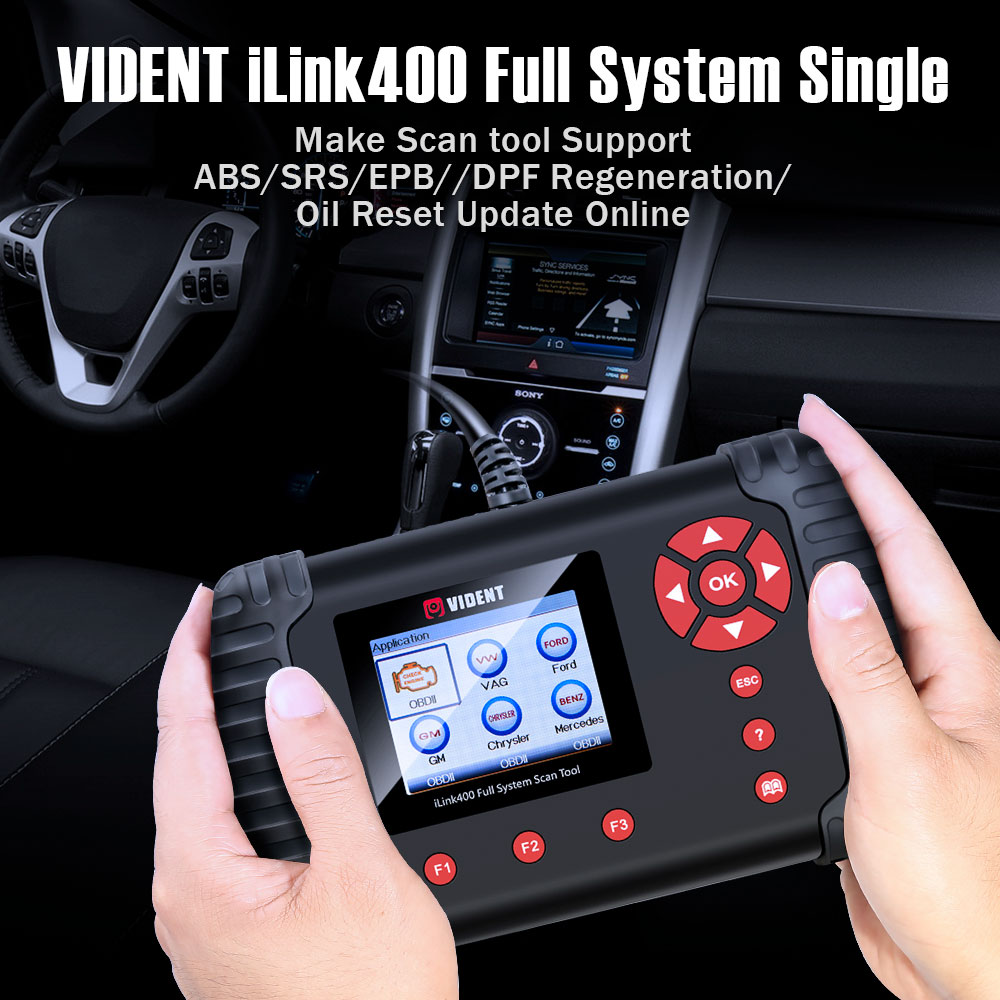 iLink400 Full System Single Make Scan tool does not only include basic functions such as read/erase codes and live data, but also it's capable of advanced functions such as actuation, adaptation and programming. In addition, it lets you to access the most commonly required service features such as Oil service Light Reset, Throttle Body Alignment, Electronic Parking Brake Service, Battery configuration, Steering Angel Sensor Calibration, CBS correct and much more.
VIDENT iLink400 Features:
1.Compatible with both OBDI and OBDII vehicles .
2.Works on the latest 2016/2017 vehicle models.
3.Multi-system Diagnosis.
4.Basic diagnostic function includes read/erase codes, freeze frame data, live data, graph and compare live data, ECU information, active test, advanced ID.
5.Quick Test function to test most common vehicle systems.
6.Turns off dashboard warning lights.
7.Request and record live sensor data. Display live data graphs, and merge 2 parameter graphs simultaneously.
8.Display freeze frame data .
9.Retrieve ECU information.
10.Key coding for several vehicles.
11.Perform bi-directional actuations tests- manually operating components on the car to test their function.
12.Support advanced functions such as adaptations and control module coding.
13.Support the most commonly required service features like brake deactivation, service resets, Steering Angle Sensor (SAS) Calibration, DPF regeneration, ABS Bleeding, BCM/SIR Setup, TPS/TBA(Throttle Body Alignment), etc.
14.Upgradable to cover more car makes.
15.Multilingual menus and code definitions for an international marketplace.
Support English, Spanish, Portuguese, Dutch, German, French, Swedish, Italian, Polish, Hungarian, Japanese, Korean, etc.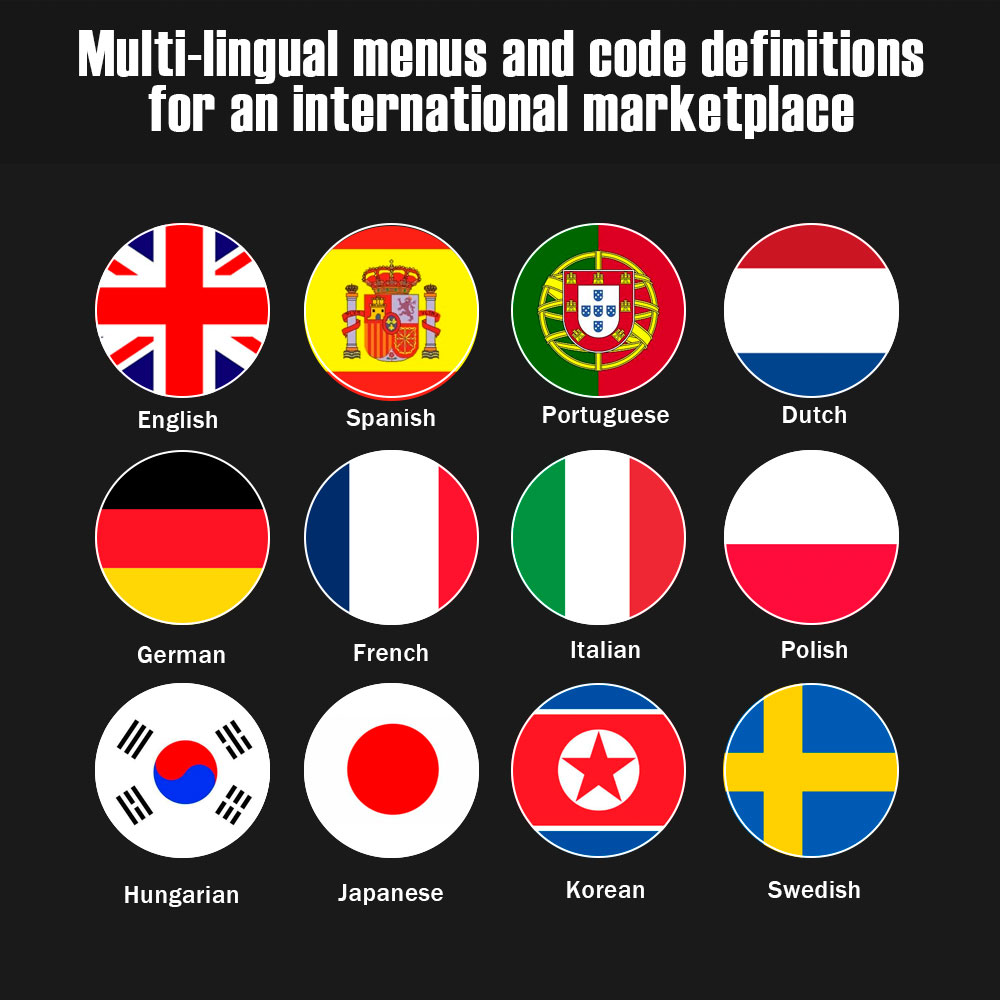 16.TF memory card for data backup and software update
17.As easy as 1-2-3 with large TFT color screen and menu-driven operations
18.Ergonomic design and ruggedly built for both shop and road tests
19.3 years free software update
System Coverage:
for most (if not all) electronically controlled systems, including :
Engine ABS
Airbag Automatic Transmission
Immobilizer Climate Control
Fuel Pump Control Module Fuel Injection Control module
All-wheel Drive Control VG Transfer Case Module
Electronic Selector Module Body Control Module
Digital Radio Standard RADIO
Drivers Door Module HVAC
Instrument Cluster Seat Memory Module
Theft Deterrent Amplifier
Central Gateway Immobilizer
Overhead Control Panel Steering Column Module
Convertible Top Controller, Etc.
VIDENT iLink 400 Vehicle List:
(The scanner is shipped with one free software . More software can be added anytime at extra cost)
SC367-1 VIDENT iLink 400 System Scan tool - AU Ford AU Ford
SC367-2 VIDENT iLink 400 System Scan tool -Ford Ford, EU Ford
SC367-3 VIDENT iLink 400 System Scan tool - BMW/MINI BMW, Mini and Rolls Royce
SC367-4 VIDENT iLink 400 System Scan tool - Citroen Citroen
SC367-5 VIDENT iLink 400 System Scan tool - Chrysler Chrysler
SC367-6 VIDENT iLink 400 System Scan tool -Fiat Alfa Fiat, Abarth, Alfa Romeo, Lancia
SC367-7 VIDENT iLink 400 System Scan tool -Ferrari Ferrari
SC367-8 VIDENT iLink 400 System Scan tool -Jaguar Land Rover Jaguar, Land Rover
SC367-9 VIDENT iLink 400 System Scan tool -GM GM
SC367-10 VIDENT iLink 400 System Scan tool -Vauxhall Opel Vauxhall, Opel
SC367-11 VIDENT iLink 400 System Scan tool -Honda Honda
SC367-12 VIDENT iLink 400 System Scan tool -Hyundai / Kia Hyundai, Kia
SC367-13 VIDENT iLink 400 System Scan tool -Holden Holden
SC367-14 VIDENT iLink 400 System Scan tool -Porsche Porsche
SC367-15 VIDENT iLink 400 System Scan tool -Toyota Lexus Toyota, Lexus and Scion
SC367-16 VIDENT iLink 400 System Scan tool - Mercedes Benz Mercedes Benz, Sprinter
SC367-17 VIDENT iLink 400 System Scan tool - Maserati Maserati
SC367-18 VIDENT iLink 400 System Scan tool -Mazda Mazda
SC367-19 VIDENT iLink 400 System Scan tool -VAG VW, Audi, Skoda, Seat, Bentley, Bugatti, Lamborghini, VW Commercial
SC367-20 VIDENT iLink 400 System Scan tool -Volvo Volvo
SC367-21 VIDENT iLink 400 System Scan tool - Renault Renault, Dacia
SC367-23 VIDENT iLink 400 System Scan tool - Subaru Subaru
SC367-24 VIDENT iLink 400 System Scan tool -SsangYong SsangYong
SC367-25 VIDENT iLink 400 System Scan tool -Peugeot Peugeot
VIDENT iLink400 Sofware Features: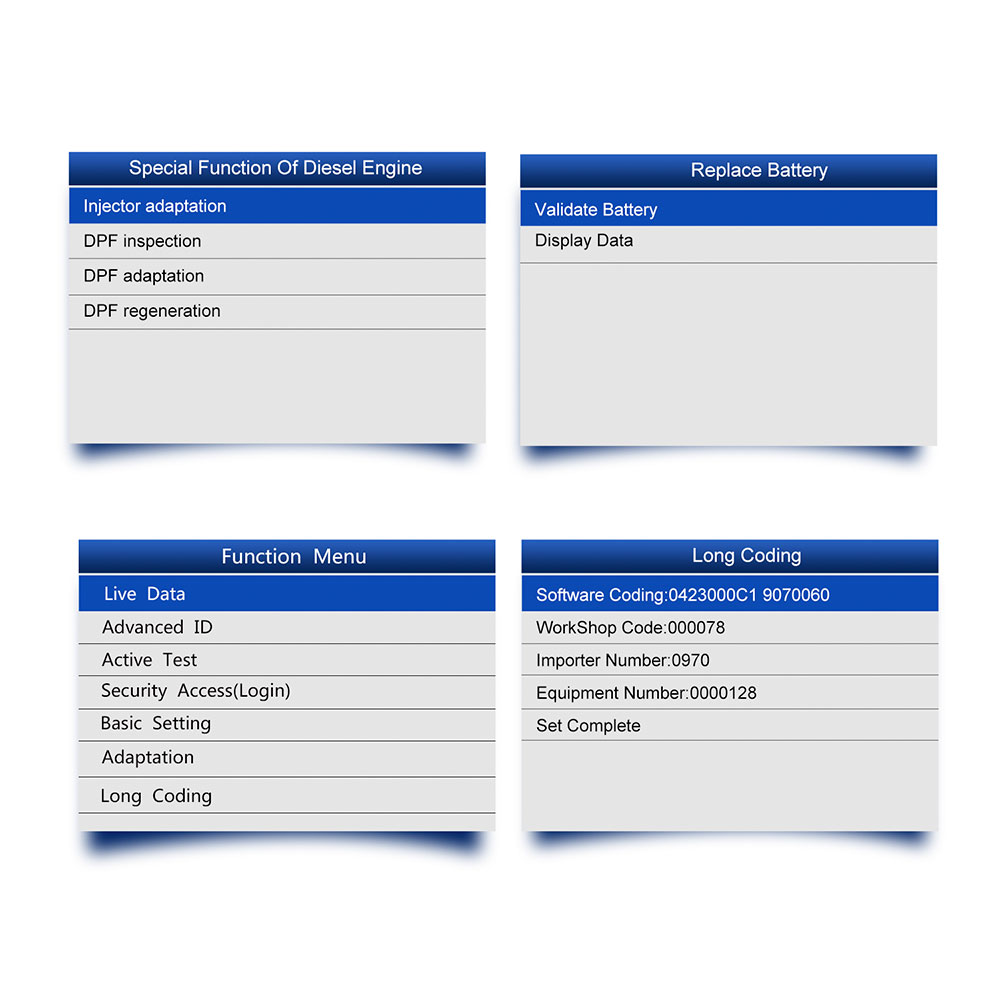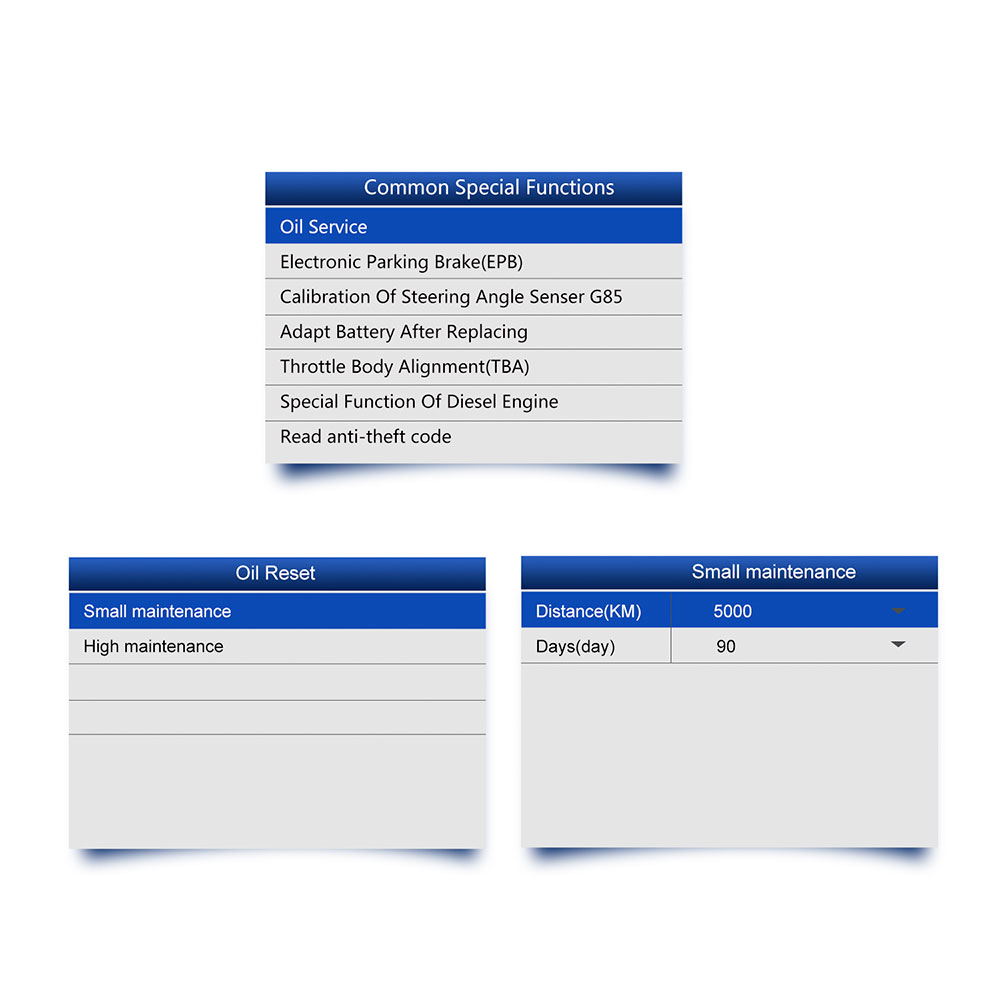 FAQ :How to download software for my iLink400 ?
Brief Guide
1. Install update client. Download the update client from our website or from the CD comes in the product package. And install it.
2. Creat a Vident ID. Create your Vident ID either on the update client iScanzilla or our website
3. Register the scanner. Register your scan tool with the update client iScanzilla
4. Connect the TF card with computer. Remove the TF card from the tool and connect with a windows computer through the card reader provided.
5. Download software. Log in iScanzilla to download all available software onto the TF card.

VIDENT iLink400 Specification :

Display: 2.8" Backlit, 320X240 TFT color screen
Operating Temperature: 0 to 60°C (32 to 140°F)
Storage Temperature: -20 to 70°C (-4 to 158°F)
Power: 8 to 18 V provided via vehicle
Supported Protocols: J1859-41.6, J1850-10.4, ISO9141, KWP2000 (ISO 14230), and CAN (Control Area Network ISO 11898)

VIDENT iLink400 Compatible Vehicles:
Land Rovers Compatible Vehicles
Jaguar Compatible Vehicles
Porsche Compatible Vehicles
1997 - 2014 FREELANDER & FREELANDER 2 (LR2)
1997 - 2004 and 2007 - 2015 DEFENDER
1999 - 2015 DISCOVERY 2, DISCOVERY 3 (LR3), DISCOVERY 4 (LR4)
2005 - 2016 RANGE ROVER SPORT (Supercharged and HSE)
1999 - 2016 RANGE ROVER (Supercharged and HSE)
2012 - 2016 EVOQUE (& Convertible)
2013 - 2016 NEW RANGE
1994 - 2016 XJ TYPE
2008 - 2016 XF TYPE
1997 - 2015 XK TYPE
2014 - 2016 F TYPE
1999 - 2008 S TYPE
2001 - 2009 X TYPE
2016 - XE Type
Boxster – 981, 986, 987
Cayman – 981, 986, 987
Cayenne – 955, 957, 958
911 – 991, 996, 997
Carrera GT – 980
Panamera – 970
GT2 – 996
GT3 – 996
Macan - All

System coverage (for Porsche only):
Note: Varies across year and model

• DME
• Tiptronic
• ABS
• SRS
• Air conditioning
• Instrument cluster
• PARKASSISTANT
• Alarm system
• Roll‐over protection
• SEAT MEMORY
• Convertible top
• HBA
• PSM
• Gateway
• Vehicle Electrical System
• Steering Column Switch


• POSIP
• TPM
• CHRONOMETER
• DRIVER DOOR
• PASSENGER DOOR
• FRONT
• PAS
• PASM
• REAR
• AWS
• KESSY
• WIPER
• Headlight CU left/right
• LEVEL CONTROL
• SEAT MEMORY, Driver/Passenger
• Transfer Case


• Rear Doors
• Mag. Field Sensor
• Tailgate
• Transfer Lock
• PDCC/ORS
• AHK
• PANORAMA ROOF
• Auxiliary Heater
• Left HBA
• Right HBA
• Targa Roof
• Airbag
• HVAC
• Parking Brake
• Radio
• Rear lid

BMW MODELS COVERED 1987-Present

1 Series (E81, E82, E87, E88, F20)
2 Series (F22)
3 Series (E30, E36, E46, E90, E91, E92, E93,
F30, F31, F34, F35)
4 Series (F32, F33)
5 Series (E28, E34, E39, E60, E61, F07, F10, F11, F18)
6 Series (E24, E63, E64, F06, F12, F13)
7 Series (E23, E32, E38, E65, E66, E68, F01, F02, F04)
8 Series (E31)
I Series (I01, I12)
X1 (E84)
X3 (E83, F25)
X4 (F26)
X5 (E53, E70, F15)
X6 (E71, E72)
Z3 (E39, E36)
Z4 (E85, E86, E89)
Z8 (E52)
MINI For Most Models 2002-Present
Body Styles Covered
R50: "Mk I" Mini One & Cooper (2001–2006)
R52: "Mk I" Mini Convertible (2004–2008)
R53: "Mk I" Mini Cooper S (2001–2006)
R55: "Mk II" Mini Clubman (2007–present)
R56: "Mk II" Mini Hatch/Hardtop range (2006–2013)

R57: "Mk II" Mini Convertible (2009–present)
R58: Coupé (2012–present)
R59: Roadster (2012–present)
R60: Countryman (2010–present)
F56: (2014-Present)


Rolls-Royce MODELS COVERED
RR1, RR2, RR3, RR4, RR5

Compatible with BMW from 1987 to current and MINI from 2002 to current
Compatible with the latest UDS protocol

Toyota Compatible Vehicles


· 4Runner
· Ayga
· Alphard / Vellfire
· Auris
· Avalon
· Avanza
· Avensis
· Avensis Verso / Picnic
· Aygo
· Camry
· Aurion
· Celica
· Century
· Coaster
· Condor
· Corolla
· Corolla Axio
· Corolla Verso
· Corona


· Crown
· Dyna
· E'z
· Etios
· FJ Cruiser
· Fortuner / Hilux SW4
· GT86
· Hiace
· Highlander
· Hilux
· Hongqi
· Innova / KijangInnova
· IQ
· Land Cruiser
· Liteace
· Mark X
· MR2
· Noah
· Previa / Tarago

· Prius
· Ractis
· RAV4
· Reiz
· Rukus
· Rush
· Sequoia
· Sienna
· Spacio
· T100
· Tundra
· Urban Cruiser
· Vellfire
· Venza
· Vios
· Verso
· Wish
· Yaris
· Zelas